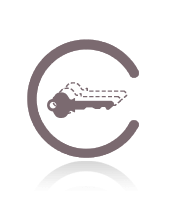 FlexAuth for ISA Server
FlexAuth brings Single Sign-On FBA features to your published web sites in ISA 2004
Single sign-on extranet
Customizable form authentication
Span credentials across listeners
You can build a customized Forms-Based-Authentication (FBA) page for your organization, and apply one set of credentials across many web listeners without your users having to re-authenticate!
FlexAuth applies intelligent, customizable rules to determine which user agents can support forms authentication. For mobile, OMA, ActiveSync, and other clients, FlexAuth automatically provides Basic Authentication services. Now for the first time you can publish your Exchange enterprise without splitting listeners!
FlexAuth natively supports LDAP as an authentication method. Now you can apply permissions based on Windows groups and users even if your ISA servers are not members of your domain! TLS/SSL LDAP tunneling is also supported.
FlexAuth brings Single Sign On features to your published web sites in ISA 2004 (Standard or Enterprise).
Single sign-on extranet
Customize FBA
Span credentials across listeners
Publish all Exchange services on one listener
LDAP authentication
Enhanced group management outside domain
Retired product
Note: FlexAuth is designed for ISA 2004.  If you use ISA 2006 or TMG and have special authentication needs, take a look at our other Authentication solutions, or contact us for assistance.